Welcome to Palacio Provincial
Experience first-class hospitality in the heart of Old San Juan
Be among the first to enjoy the newest hospitality experience in Old San Juan. Palacio Provincial offers guests an incomparable location, right in the middle of Colonial Old San Juan within walking distance to a host of popular attractions. Situated within an historic early 19th century building full of rich diplomatic history, Palacio Provincial has been meticulously restored with transcendent hints of the structure's grand colonial past. Discover this unique boutique hotel, now offering guests a different type of ambassadorial service, showcasing first-class hospitality with modern technology and comforts. From our rooftop pool deck with gorgeous San Juan Bay views to the outdoor restaurant and bar in our open courtyard space, a truly remarkable experience awaits.

Rooms
Infanta Suite
The Infanta Suite is a massive, open-concept room with 14ft high wooden beam ceilings, checkered floors, and contemporary furniture in inviting neutral tones. Large wooden window doors lead out to a Juliet balcony with enchanting colonial views. Furnishings include a plush King size bed, large smart TV, incomparable work desk, walk-In closet, and very spacious dressing area.
View all rooms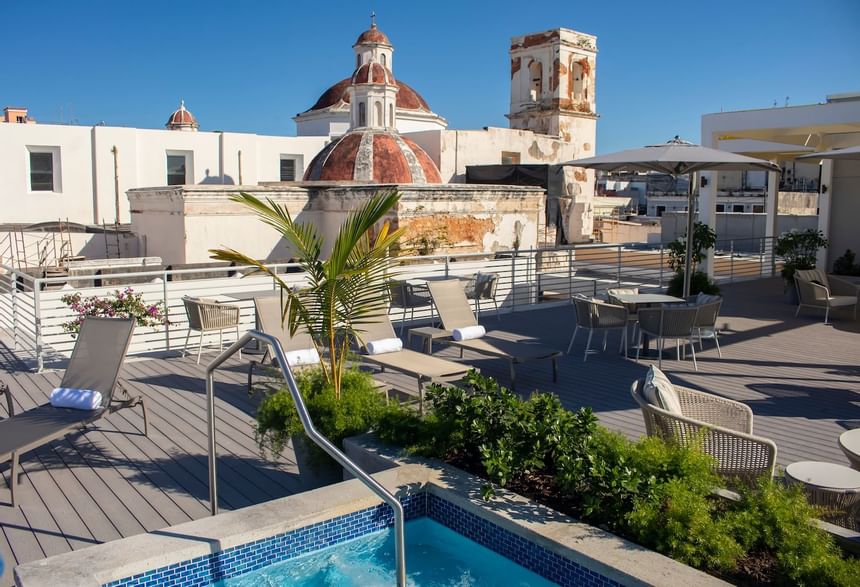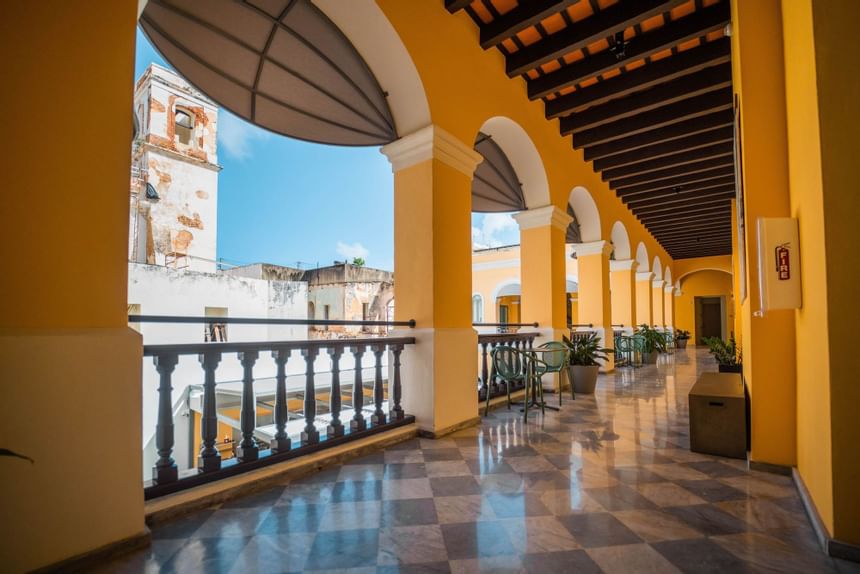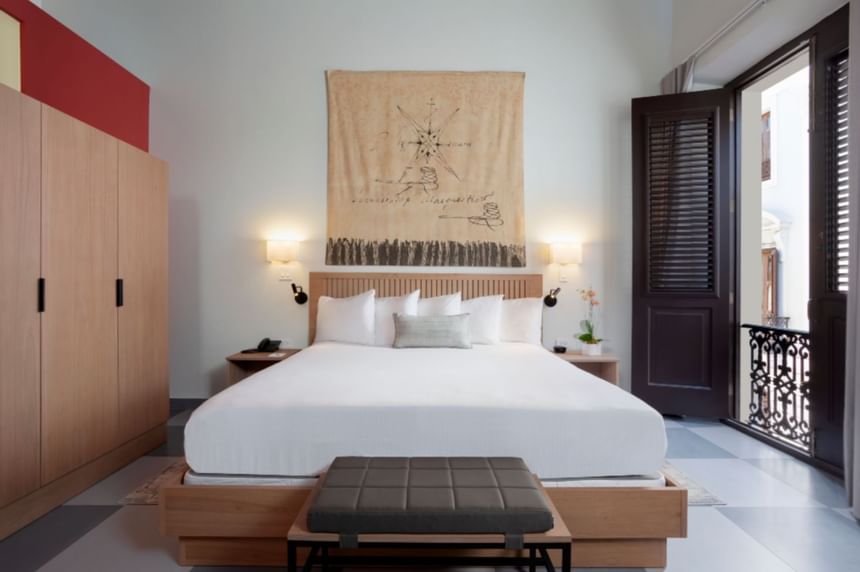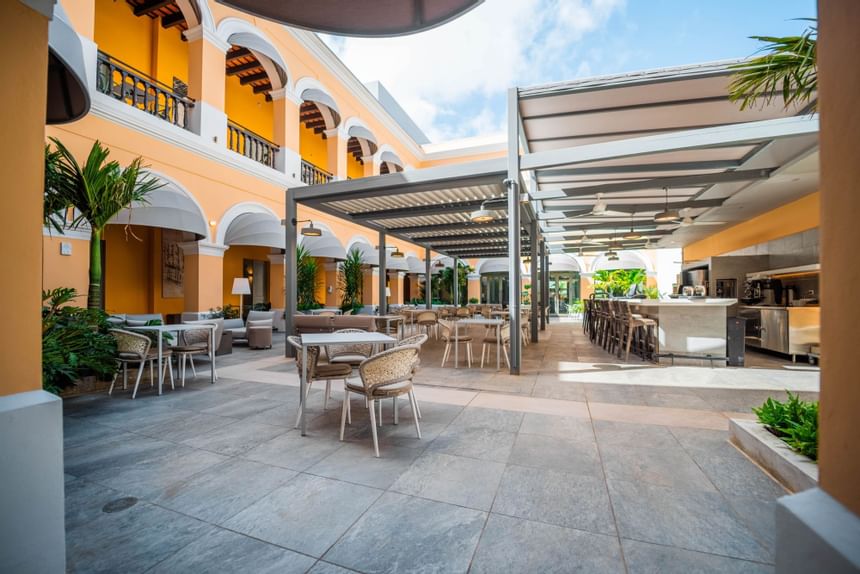 Incomparable Location
Palacio Provincial offers an incomparable location in the middle of Colonial Old San Juan, within easy walking distance of popular attractions, historical sights, active nightlife, enticing shopping and the best mixology and gastronomy in the city.
View attractions
Palacio Provincial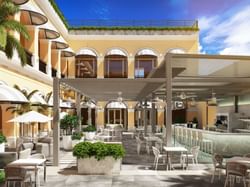 Be among the first to enjoy the newest hospitality experience in Old San Juan. Palacio Provincial offers guests an incomparable location, right in the middle of Colonial Old San Juan within walking distance to a host of popular attractions.
Castillo San Cristóbal
Renowned as the largest Spanish fort built in the Western Hemisphere, Castillo San Cristóbal is a San Juan National Historic Site. Set on over 27 acres and rising 150 feet above sea level, the fort features amazing views of the city, El Morro and the piers.
Castillo San Felipe del Morro
Extending out into San Juan Harbor, Castillo San Felipe del Morro is a 16th century military fort and World Heritage Site.
Plaza Colón
Located in the doorstep of Old San Juan, in a busy square surrounded by restaurants, cafes, and the historic Tapia Theater making it great for relaxing and people watching.
Plaza de Armas
One of the main squares in San Juan, and right at the corner of our Hotel. It is located on San José Street, and was designed to serve as the original main square for the city.
Cathedral de San Juan
One of the oldest buildings in Old San Juan, the beautiful Cathedral of San Juan Bautista is the Roman Catholic cathedral and the second oldest in the Americas.
Museo de las Américas
Located inside the historic Cuartel de Ballajá, which in Spanish colonial times was used as the military's barracks, this museum offers three permanent collections as well as temporary exhibitions.
Galería Botello
Located in a 350 year old Spanish building, Galería Botello showcases some of the finest internationally recognized artists.
San Sebastian Festival
Celebrated annually on the third week of January, the San Sebastian Festival is a giant street party attracting more than half a million people every year to the streets of Old San Juan.
Calle del Cristo
Calle Del Cristo is lined with designer stores, outlets, and boutiques where you can shop till you drop.
Calle Fortaleza
Named after the governor's mansion, where you can start your shopping journey, this street has a little bit for everyone.
El Yunque Rainforest
Take a drive to the northeastern side of the Island to the only rainforest in the US – El Yunque. This lush, wild rainforest in Puerto Rico features over 28,000 acres of natural terrain, island allure and tropical splendor.
Condado Beach
Located just a few miles from Old San Juan, Condado Beach is considered one of the most beautiful beaches in all of Puerto Rico. Palacio Provincial guests have access to the Beach Club, featuring beach privileges at Condado Beach.
Marmalade
This very modern restaurant with cutting edge dishes is a must in Fortaleza Street.
La Lanterna
Chef Franco Seccarelli's first restaurant in San Juan is a nostalgic trip across classic Italy with its tasteful dishes and fine wine pairings.
Casa Cortés
Casa Cortes is an innovative gastronomic space where chocolate plays the starring role. Chocolate Cortés, a family-owned company, has been making chocolate from bean-to-bar in the Caribbean since 1929.
311 Trois Cent Onze
An elegant and intimate French dining room in the heart of Old San Juan.
Azalea
Enjoy this Latin, Asian and sushi restaurant, offering a fusion of Asian spice and American zest with the freshest local ingredients.
Verde Mesa
Tucked down historic Tetuan Street, this little gem is known for its local and fresh creative menu, with great options for vegetarians and vegans.
Casa Montecristo
Casa Montecristo offers a luxurious yet relaxed atmosphere in Old San Juan for whiskey and cigar lovers.
Santísimo
Santísimo is a unique dining experience perched within the courtyard oasis at El Convento. Chef Antonio Pérez blends contemporary Puerto Rican cuisine with world techniques.
Cannon Club
Step into the majestic Cannon Club Piano Bar, located at San Sebastian Street inside a beautiful 17th century building.
Barrachina
Barrachina has been offering creative Puerto Rican and International cuisine for over 50 years along with the best Piña Coladas, created here by star bartender Don Ramón Portas Mingot in 1963.
La Ó
Decorated with religious references, you will surely have a godly culinary experience enjoying a varied menu which offers pizza, fresh pasta, Mediterranean tapas, and vegetarian dishes in this charming, flavorful site.
Pirilo
Pirilo is a rustic pizzeria where classic Italian and international dishes are prepared with dedication with local ingredients.
Señor Paleta
After a sunny afternoon in Old San Juan, nothing is better than stopping for a refreshing cool treat at this local shop serving artisan gelato and sorbet popsicles in traditional and innovative flavors.
St. Germain Bistro
Inspired in the classic French cafés, this bistro offers a variety of breads, quiches, and styled breakfasts full of creativity for the whole family.
Al Fresco Rooftop Wine and Tapas Bar
Al Fresco Rooftop Wine and Tapas Bar is an intimate and exclusive rooftop located in the 3rd floor of St. Germain Bistro at Sol street.
Ostra Cosa
Ostra Cosa is an outdoor Bar and Restaurant with an exquisite menu and friendly atmosphere right in front of El Totem, great after a day of walking around Old San Juan.
La Factoría
This popular mixology bar is a must in Old San Juan with its speakeasy vibe and laid-back style.
La Cubanita
Neighborhood market turned bar, this whimsical hidden gem captures Old San Juan's nightlife keeping its old school rustic Cuban spirit.
La Vergüenza
Like a "chinchorro" in the middle of the old city, this bar has a fun environment for the whole family, even your pets!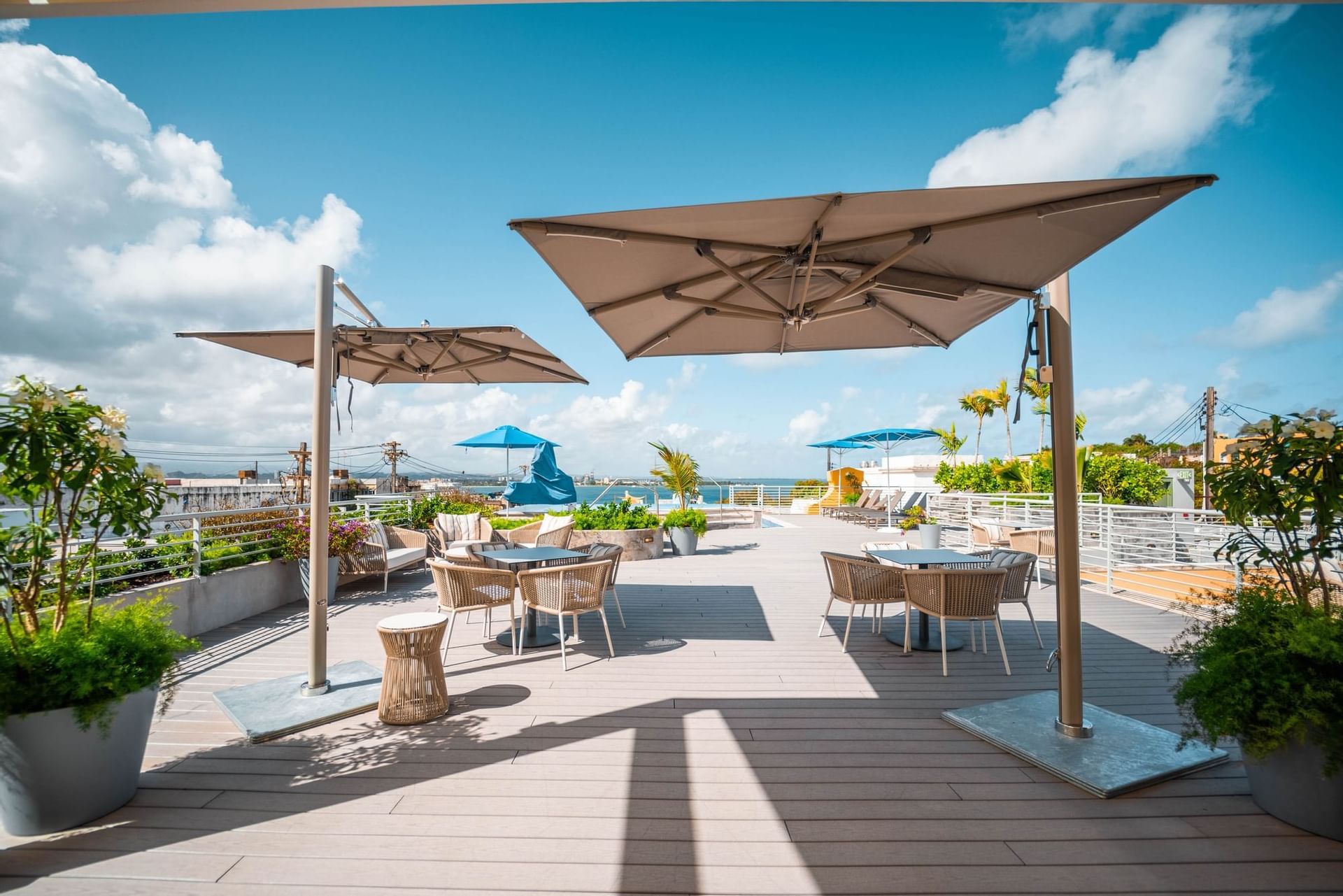 Slideshow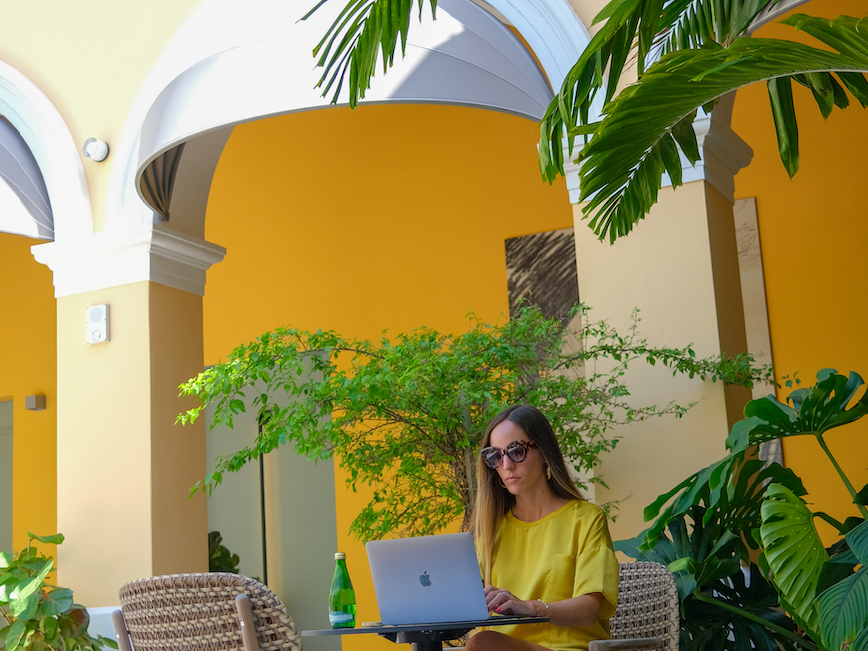 Work from Paradise
Change scenery and enjoy perks of working away from home.